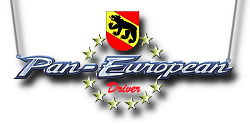 Imprint
Media owner, Publisher:
Club «Pan Driver Bern»
CH-3114 Wichtrach, Rütiweg 7
Mobile +41 79 435 80 55
Email:

mail@swiss-pan-gathering-2014.ch
Chairman: Hans-Peter Morgenthaler
Secretary: Roland Müller
Treasurer: Ines Trüssel
Editoral policy:
swiss-pan-gathering-2014.ch is an information site of the com­munity «Pan Driver Bern». The actual website can be found on

www.pan-driver-bern.ch
Web design, Author:

Manfred Racek
Liability for links (references)
Links to other sites are only pointers to these pages. This external links are shown in a separate browser window. We emphasize that we have no influence on the design and content of the linked pages and do not identify with it.
Copyrights
All details are without guarantee and subject to errors. Honda, the Honda logo and the Pan-European logo are trademarks or registered trademarks of the Honda Motors Ltd. in Japan and / or other countries. All other trademarks, logos and product names are trademarks of their respective companies.
guckstdu.org as the author of the pages retains sole pro­perty of the copyright for published and prepared objects by guckstdu.org itself. Any duplication or use of such graphics, audio documents, video sequences and texts in other electronic or printed publications is not permitted without the expressed consent of the author (guckstdu.org).